Welcome to Fund Our Fosters. I'm just barely figuring this out, and there will be more to come as I learn, but for now, this is our page. All of the animals featured in these pictures have been those I've either adopted or helped to get to rescue. I love to talk about them, so feel free to ask if you want to hear me babble on.
You can click on this to go to our Indiegogo page for the fundraiser. The full story of why I need to raise funds is there, and I truly appreciate everybody who can help get the word out. I have always dreamed of making a difference, and this feels like the right way to do it. My goal is to have a space where people who've lost their home to disaster can have their pets stay while they get back on their feet, as well as help save those in 'high-kill' shelters.

If you would like to join the FoF forum, click the following graphic and sign up. Donators to the cause will have access to special forums where I will post receipts on where the money is going.
If you would like to check out the transport blog that I've had for a while, click on the following graphic. I took a hiatus for several months, but am back to transporting when I can, and there will be posts there now. I may also continue with some silliness here and there as well.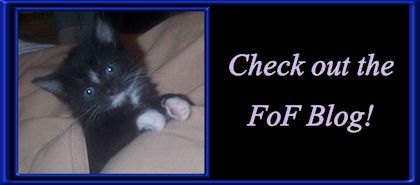 I not only welcome those who can donate money, but people who are willing to volunteer up some time. The more the word gets spread around, the better the chances are that we can make this dream happen.

I've started up a Facebook Group, and you can join it here: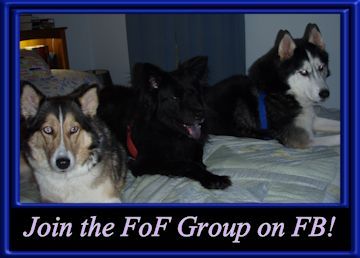 I've also created a Facebook Fan Page, which you can like here:

FoF now has it's own Twitter! If yo'ud like, you can follow it here:

I've also started a Tumblr blog for quick updating over here: